RILLA JAGGIA…
…grew up in an India of mango lassi and apple pie, parrot greens and pale pastels, heel-pounding bharatnatyam and tiptoe ballet, spicy daal, meatloaf and…yes! Being biracial was terribly confusing a lot of the time. All right, most of the time. But, in books, she found belonging; in fairytale realms of fantasy, she could be someone real. After immigrating to the US for higher education, and a detour as a professor of finance, she has returned to fantasy, this time, to write for young readers who yearn to belong, be seen, be valued, be the hero who saves the world!
Rilla has won awards, grants, and scholarships for her YA works in progress and has been recognized for service to the children's book-writing community. When she isn't writing, you can find her painting in her studio, teaching creative writing, gardening, reading, or traveling through worlds both real and imagined. She lives with her husband and cat in southern California and Arizona.
---
A little more about me.
Spoiler Alert: Baby pictures and Silliness abound—
I WAS BORN IN…
…the capital city of the largest democracy on the planet with two irrefutable signs of greatness–untameable hair and a permanent frown.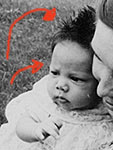 Right from the beginning, my brother tortured me…but I learned to fight back. Watch out for my lethal flyswatter! (Perseverance is key to being a writer and I learned fast.)
By my first brithday, I had a few likes sorted out. Cake was not one of them. I HATED CAKE–period! Pass the bread, please.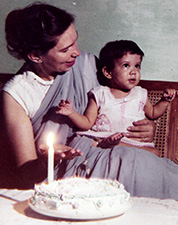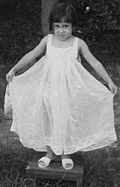 I couldn't stand dresses either. (Remember that permanent frown?)
But, I was perfectly happy being in the entertainment business, especially when it included famous people.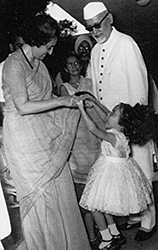 In my tween/teen/YA years, I was a confused introvert who found it easier to face the world from behind stage footlights or retreat from it altogether. And so, I acted and sang,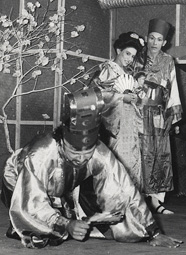 …and was just about the biggest bookworm, ever.
Get a load of my honking, ginormous glasses. That's what comes of reading with a flashlight under a blanket, or more often than not…forgetting the flashlight altogether. (How do you explain needing that many batteries to the parents?)

I read Enid Blyton and Georgette Heyer behind the locked doors of a bathroom, Victoria Holt and Barbara Cartland under the bedcovers, Charles Dickens, Tagore, and Shakespeare in the living room, Rosemary Sutcliff and JRR Tolkien under the lid of my desk at school, Tintin and Amar Chitra Katha tucked between the pages of a textbook while "doing homework."
I read to be someone–someone who could fight dragons and win, solve crimes, have adventures, fall in love, fly.
My brother grabbed all the looks and smarts and height the family genes had on offer. (Did I mention he was witty, too?) So, when my hair stopped standing straight up on my head, I convinced myself I wasn't destined for greatness, after all.
DEVASTATING! RIGHT?
Yup. Like any teenager, I was drowning in drama and addled by angst.

Now, centuries later, living with my husband and cat amongst the mountains and fruit trees of Southern California, I have discovered there was a purpose for all that reading and all that angst (not the permanent frown, though), after all. Without them, I couldn't possibly write fiction for young readers on their own quest to find Wonder and a place to belong, be seen, be the hero who saves the world!